News: 2nd March 2017
An insight into the Re-Use Atlas No. 6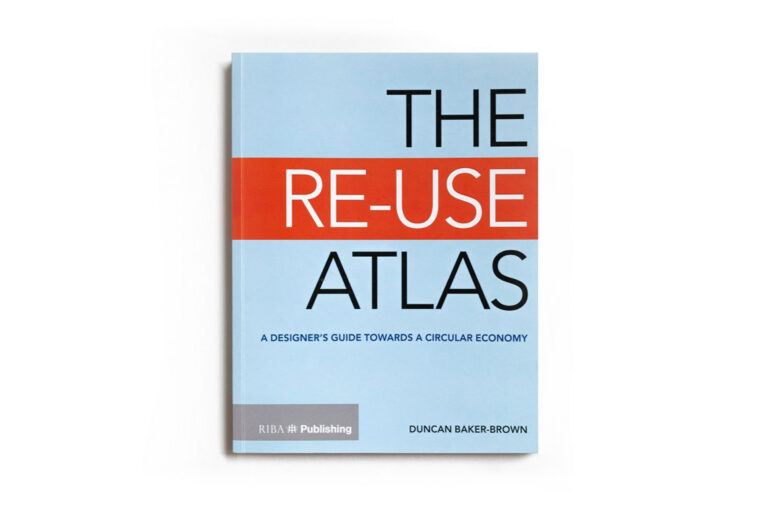 The Re-Use Atlas: A designer's guide to the circular economy
Author: Duncan Baker-Brown RIBA FRSA
Entry number 6
Would you like to visit the previous entry? Click here
Part 2 of the atlas is divided into four chapters, taking the reader on a step-by-step route towards closed loop systems. Each 'step' contains a number of case studies that capture some of Duncan's first-hand research, gleaned from interviewing over fifty people involved in inspiring projects from around the world that tackle recycling, re-use, the reduction of resource use, and finally closed loop systems. These case studies are supplemented with one longer interview with a significant protagonist from each of the aforementioned steps. Therefore unless stated otherwise, any comments quoted from people in the case studies have been taken directly from interviews Duncan had personally with them.
Step 2 Reusing Waste
Case Study – Superuse Studios
Rotterdam-based Superuse's original name, 2012 Architects, came about because some of the founder members of the studio (including Jan Jongert) were living in a street where 18 houses were planned to be demolished. Jongert and his colleagues proposed an alternative vision that preserved all the houses, but rather audaciously asked the municipality to lend them the houses for 15 years, until 2012. The community renovated the houses and when 15 years had passed they were able to buy them from the municipality at affordable rates: a positive tale of social sustainability.
The current name, Superuse, comes from the idea of improving the value and usefulness of a product or material from its original intended use. Connecting different systems that are normally kept separate does this. So, for example, if a glass bottle is reused as a brick that forms part of a building, its life and usefulness are hugely extended from that originally intended. Jongert refers to this as 'the creative "click"; understanding that the function can change'. For him the difference between everyday reuse and 'superuse' is the ambition of the creative challenge involved. 'Superuse' requires people (often designers) to propose future scenarios for discarded material that extend its life and add value. This requires a new perception and understanding of the potentials of these materials to be substantially more useful than previously thought.
Similar in many ways to Rotor in Brussels, Superuse is taking on the challenges of resource efficiency and closed-loop systems in a systematic manner. Its team produce academic papers on subjects pertaining to resource management and flows, they teach (Jongert is a professor at The Royal Academy of Art in The Hague), design buildings and advise their regional and national governments.
In 2005 Superuse completed what many people believe to be Europe's (if not the world's) first contemporary house made from a selection of waste material. Superuse procured this using its 'Harvest Mapping' methodology. The house is interesting enough and has been extensively published. It famously reused steel profiles from a redundant textile machine for the main structure, as well as for one of the facades. Timber from massive cable reels was salvaged for other facades. Many other sources of waste material (including house 'for sale' signs for the linings of kitchen cupboards) were used to deliver this project. The project highlights very clearly some of the real challenges facing a client and their design team. For example, the design team cannot show their client exactly what the final building will look like until the material has been sourced. How does one design a building without understanding what all the finishing materials will actually be before starting on site? Designers working with so-called waste sources have to continue to be creative throughout the duration of a project, not just at its inception.
Superuse knew it could never be a normal design practice, and as a result of pursuing a 'material-experimental design approach', it has assembled a multidisciplinary team that includes chemists and environmental scientists, supporting designers and architects dedicated to 'turning cities into a living web of connected material processes and flows'. Obviously this is a slightly unconventional way of perceiving a city. In order to make this preoccupation relevant, and of course, financially viable, Superuse has developed a series of tools, such as the 'Relevance Indicator' and the 'Environmental Impact Calculator', that help ground its design strategies in rigorous scientific practice. Its Harvest Map uses geographic representations to help identify and prioritise waste materials near to a specific project site. As well as highlighting surplus and waste materials currently available via a 'live' interactive map, this platform also provides useful information to facilitate the repurposing of materials, elements and components that would otherwise be discarded. It also encourages people to become 'scouts' looking out for neglected material flows.