News: 24th November 2014
The Brighton Waste House: A Learning Tool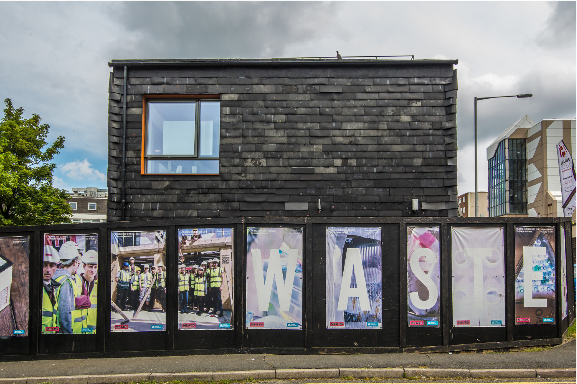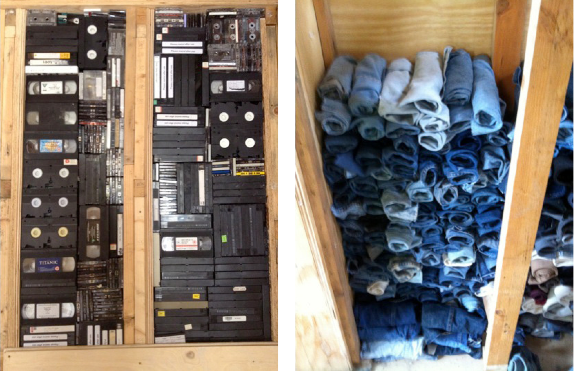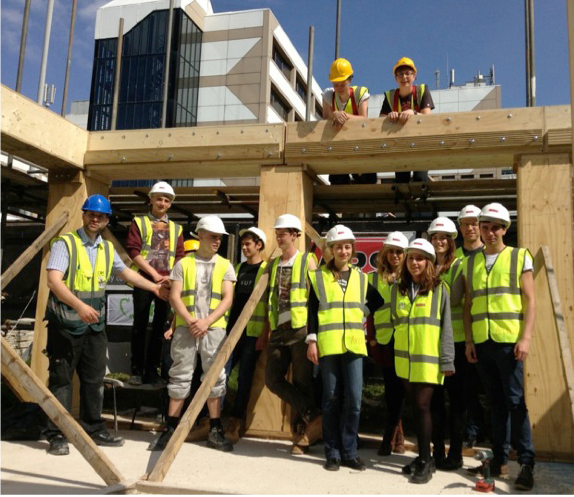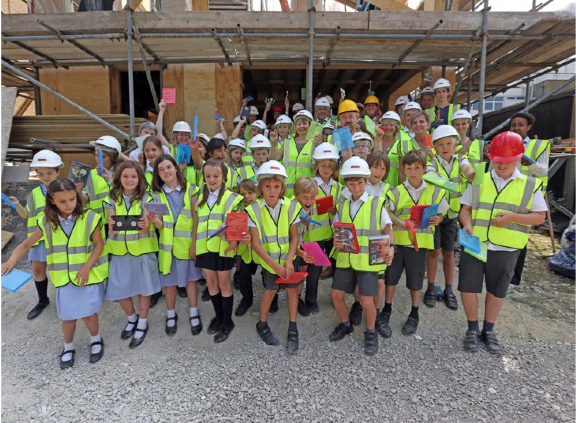 /
First published in Edge condition Vol.04 'Teaching the Future' www.edgecondition.net
Writing this piece nearly five months after the formal opening of The Brighton Waste House at University of Brighton (Europe's first permanent low energy building made from material other people threw away) has given me a bit of time to reflect on a project that occupied most of my conscious and a fair bit of my unconscious mind for a solid two years.
Inspired by my time studying under Florian Beigel, as well as the work of academics and students at the University of Sheffield's Live Projects Programme (http://www.liveprojects.org) and finally of course Hale County's path-finders Rural Studio (http://www.ruralstudio.org), I was determined to make the building of Waste House a real learning experience. It was therefore my ambition from the start to allow the re-design and the construction of our new 'live' project to involve as many students as possible.
In May 2011 tutors and students from our Interior Architecture started to construct what would be the first of the annual pavilion structures to be built in the courtyard of the College of Arts & Humanities. At the very same time apprentices from local contractors The Mears Group (a national contractor charged with servicing and maintaining the social housing stock of Brighton & Hove, and that have a commitment to training a large number of apprentices) were starting the construction of the foundations and below ground drainage for our build. Mears had generously promised to deliver this first phase of the works for us. However what we hadn't planned for was that Mears' apprentices drifted around the corner and help our students complete the build of their pavilion which included loaded-bearing rammed chalk and straw bale walls that year. This transfer of knowledge and skills from makers to designers and designers to makers was hugely successful. So much so it inspired Mears to commit to delivering the completed building in 2012.
During 2012 I had met a number of experts in the subject area of waste as a valuable resource or The Circular Economy. Designers such as Nick Gant who runs the Sustainable Design MA at The College of Arts and Humanities and Diana Lock from ReMade South East, a government funded organization charged with getting larger companies and corporations to reduce the amount of waste their product created in manufacture and crucially in-use. Diana told me that many large multi-national corporations were very concerned about 'resource security' as well as the cost of the ultimate disposal of their products. They were looking at ways to avoid relying upon buying so much raw material, as well as avoiding sending their products to landfill or incineration, in order to make or sustain their profit margins, or in some enlightened cases, to reduce their burden upon Planet Earth's natural resources. The sensible money was investing in the world of the Circular Economy.
In August 2012 I called a mini "waste summit" where I met Cat Fletcher who helped form FREEGLE UK (https://ilovefreegle.org) "an exchange for unwanted stuff" with over 1.8 million subscribers. Myself,. Cat, together with Dr. Ryan Woodard, a Research Fellow at The University of Brighton who has been working in waste management research for over 15 years, and with Nick and Diana, contrived a plan for redesigning the build so that it was constructed of waste and surplus material from the construction industry. Following Cat's suggestion, we also looked at collecting items of waste material currently flooding domestic waste sites; material such as VHS video tapes and CD's. Mears agreed to provide an experienced site agent to run the construction site, together with their apprentices. We planned to start works on site in the autumn of 2012.
It was during this period that I had another fortuitous meeting. I went to meet tutors delivering construction courses at City College Brighton and Hove. I wanted to see if they could construct a glue-laminated timber beam for the roof of our new building. They couldn't make a glue-lam beam, but rather amazingly for us they wanted to build the Waste House as every year they build the equivalent of a new in their three storey workshops. We had our team.
The structure of the Waste House, which was made using waste ply and timber off-cuts was completely constructed by approximately thirty16-18 year old carpentry students in the workshops, over a three-month period. The structure was then delivered to site at our Grand Parade Campus where the Mears Site Agent David Pendegrass worked with over 275 different students – construction students from City College and architecture and interior architecture students the University of Brighton – over a twelve month period which resulted in the completion of Europe's first permanent building made from nearly 90% material discarded by others.
During this period we had a Volunteer Summer School Camp that ran from June 2013 until September 2013. Over 50 students completed the most challenging part of the construction process during this period. 25 of the volunteers were City College students, and another 25 were architecture students, with many of those from the Interior Architecture School. This was perhaps the most profitable time as far a skills and learning exchange amongst students, apprentices and the one or two professional trades people we had on site. It was the one period of time where design students could spend three, four, maybe six weeks in a row working on site. Some of these committed design students became so adept at their new trade that they ran small teams of volunteer carpenters on site; teams that included City College carpentry students. It was during this time that Mears promoted five City College students to Apprentices because of their work on our project. A number of our students received Achievement Awards from Mears.
During the construction of the Waste House we also worked with deaf students from Hamilton Lodge, as well as a number of students with learning and behavioral difficulties. Construction sites have always been a social and intellectual leveler, and so it proved with our Waste House. We recorded of 25 short films during the construction period that included interviews with students from all institutions taking part. We also welcomed over 750 pupils from local primary and secondary schools, as well as other technical colleges from around the South East. This unusual learning environment was completely facilitated by our immensely patient site agent David Pendegrass who had to do a Health & Safety Induction for every person who arrived on site, whether they wanted to work or simply visit, and remember he also had to get the Waste Hose built on budget and on time. This he did.
For me The Waste House was a dream come true, an opportunity for design and construction professionals to work with students and volunteers on a truly innovative design idea, but more importantly to work together on a very rare thing, a collaborative pedagogic project where age, academic and vocational abilities were no barrier to being involved.
The Waste House continues to act as a learning tool. It hosts the MA in Sustainable Design and continues to welcome schools, colleges, design professionals and anybody who is interested in innovative sustainable design.
By Duncan Baker-Brown RIBA FRSA
Architect, Director of BakerBrown, Senior Lecturer College of Arts and Humanities, University of Brighton