Journal: 1st September 2023
Retrofit Studies for Newham Council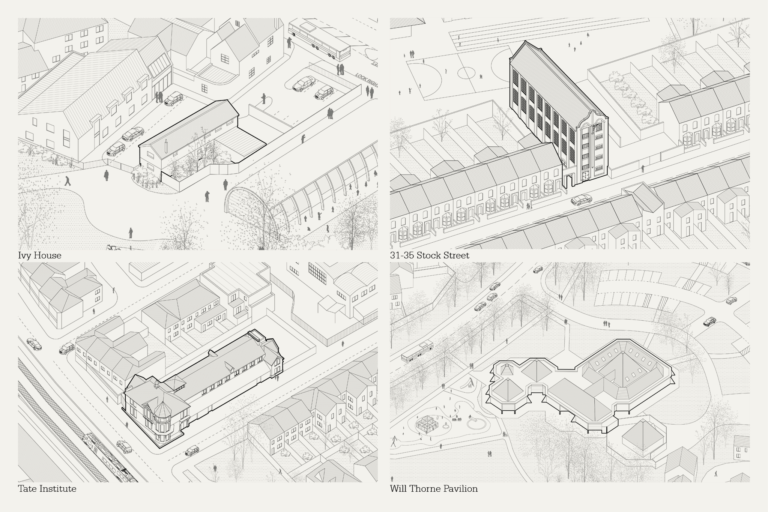 BakerBrown were appointed by the London Borough of Newham to undertake a series of design feasibility studies for four different sites in Newham. The projects are funded by the London Borough following Newham's successful application to the government's UK Community Renewal Fund, 'Unlocking Green Enterprise opportunities in the south of Newham'. The funding proposes to develop an overarching business case and delivery strategy for Green Enterprise (SFGE) initiatives in North Woolwich and Beckton informed by detailed feasibility studies and a pilot project. Initial studies focused on BakerBrown building relationships with community stakeholders and identifying and understanding opportunities for building a Green Economy in these areas. Part of the emerging strategy is to invest in existing council properties that are currently disused but are in locations central to the local community and have the potential to be refurbished to provide a network of vibrant hubs or "Engine Rooms" in the south of the borough.
BakerBrown coordinated a full design team to undertake design feasibility studies to RIBA 2+, considering the cost-effective low carbon restoration and retrofit of several existing empty council properties. BakerBrown had to propose new and/ or enhanced programmes for the buildings that would enable the creation of new jobs in emerging 'green' industries. All projects also needed to act as 'gateways' to these emerging green industries, providing a variety of different activities. Buildings under the study varied enormously in size and vintage, ranging as they did. from 1890's and 1920's, to the 1980's. The buildings also had completely different previous functions and therefore required different future programmes that ranged from serviced office space, makers spaces, and cafes, to community event spaces and sports facilities. As part of this study Thermodynamic models were run to ascertain how to achieve different low carbon retrofit targets; EPC 'C', LETI Retrofit 'Best Practice' and 'Exemplar'.

The proposals are in line with BakerBrown's ethos and intends to follow and exceed local and national benchmark sustainability standards, taking into consideration standards such as PassivHaus for principles such as optimization of operational energy and well insulated buildings, Life Cycle and embodied carbon assessments to quantify the environmental impact of the development and the RIBA (Royal Institute of British Architects) 2030 Climate Challenge, a professional voluntary standard for good practice.
The proposals include strategies for adaptation to climate change such as natural and simple systems (green roofs, permeable surfaces) for the higher water retention in case of storms and low water/maintenance plants, in case of droughts.

This study has followed guidance from the Climate Emergency Retrofit Guide by LETI and adapted it case by case. The improvements defined were classified in increments, with the aim of tackling the most urgent and most necessary improvements, acknowledging budgetary limitations. The improvements defined were the following:

Minimum retrofit
Aimed to tackle the elements of the building urgently needing improvement, such as windows, doors, and localised air tightness improvements around windows, to minimise heat loss.
Developed as low embodied carbon (natural and organic materials) option and higher embodied carbon (traditional materials).

Medium retrofit
Aimed to tackle most issues with airtightness, quality, and fuel efficiency of the building.
Materials specified as low embodied carbon as possible, mostly natural, and organic materials.

Deep Retrofit – aimed at LETI Exemplar
Aimed to create an as efficient as possible building.
Developed as low embodied carbon (natural and organic materials) option and higher embodied carbon (traditional materials).

In an ideal scenario, a deep retrofit would have been preferred for all properties, but the studies were met by real life constrains, such as low floor to ceiling heights - meaning ground floor insulation over an existing concrete slab was not achievable, intricate exterior façades - limiting the possibility to use external wall insulation, as well as existing services connections and budget constraints.
Limiting embodied carbon was another important aspect of the projects, our approach was the following:

Prioritise the re-use of building fabric and materials over recycled.
Limit use of materials with high embodied carbon (Concrete, Bricks)
Design the building as a material store for the future and ensure that materials and components, especially those with a high embodied carbon footprint, are removable for reuse one day.
Specify locally sourced materials, components and labour thus limiting the carbon emitted in transportation known as sea, air and road miles.
Use carbon sequestering, organic and renewable materials such as timber, cork, earth.
Maximise design efficiency.
Finally, embedded across all retrofit studies, we also determined all materials leaving and entering site to follow circular principles, to avoid waste as much as possible. Part of this philosophy will involve a technique we call 'resource mapping', which is regional mapping study of resources available on site, nearby, and within a 5-10km radius of the development site.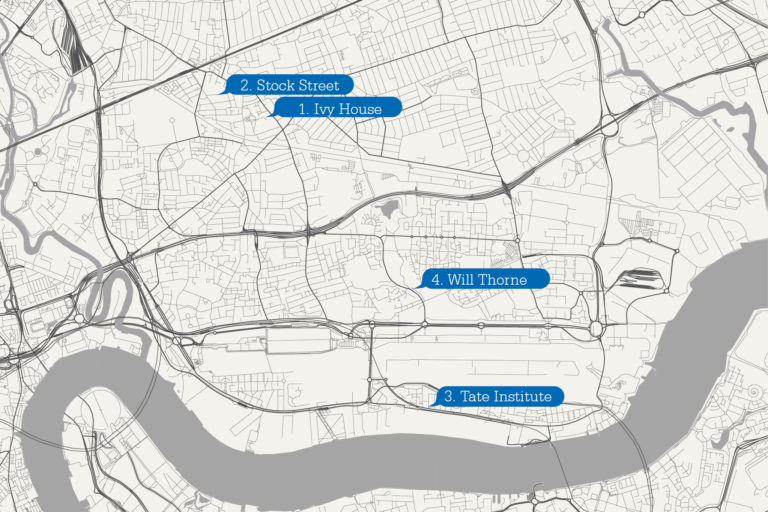 The Will Thorne Pavilion
A large 1980's community building in Beckton Park, it houses two events spaces, plus changing rooms serving nine football pitches adjacent. It is a one-of-a-kind building, with a very particular roof form, which makes it look like a series of pyramids from a far. For some years, it has only been used partially, and the community, is very eager to see this reopening soon. BakerBrown proposed ideas to add a café serving both the building and family park adjacent, whilst enhancing the event spaces and refurbishing the sports facilities. The design was developed together with the community and discussed over a series of engagement sessions.
GIA: 1200m2
Contract Value: £2.75milion.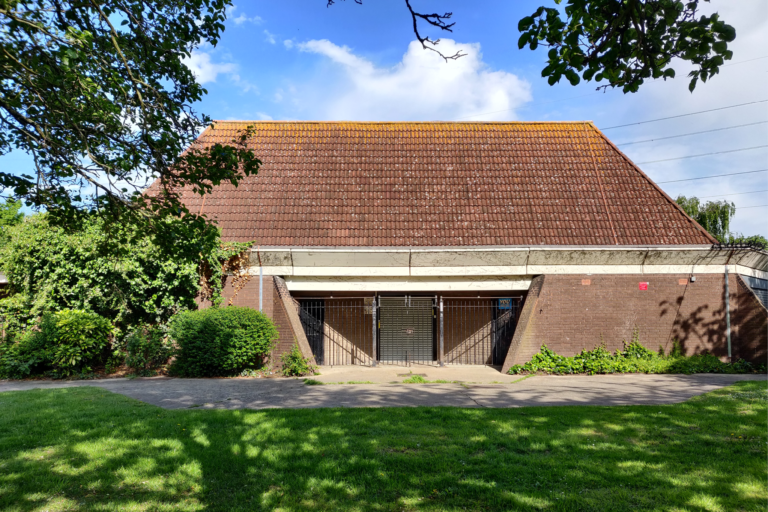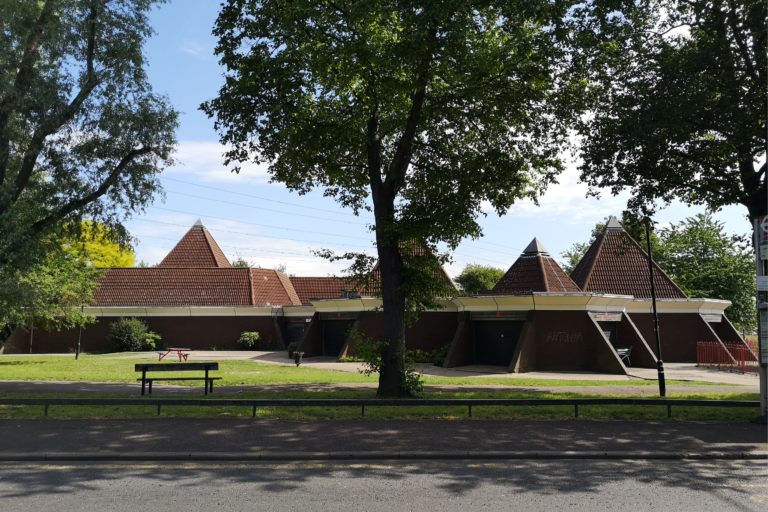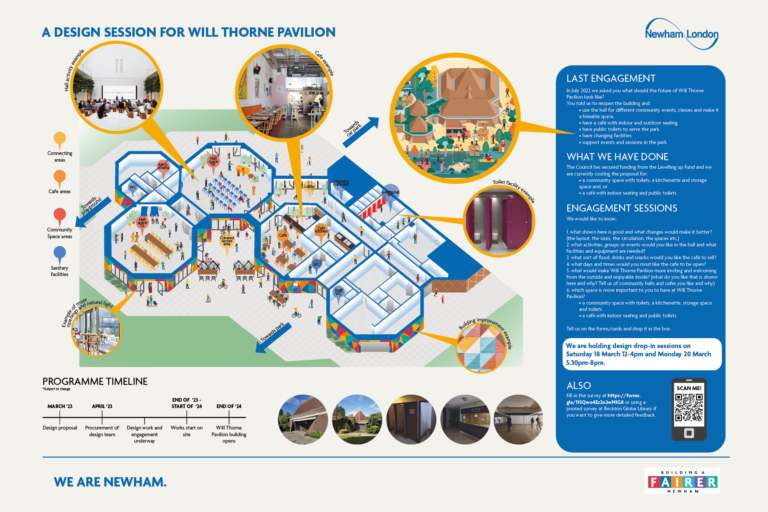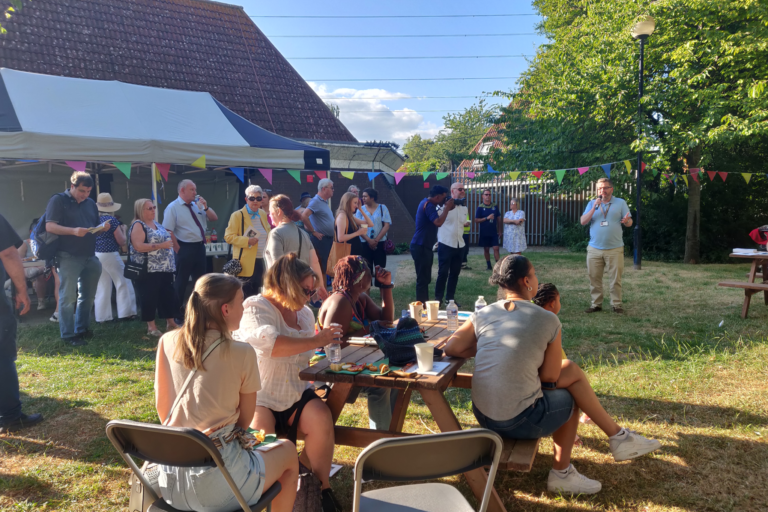 31-35 Stock Street
A beautiful 5-story Victorian warehouse, located in a low-rise residential street in Plaistow – a one-of-a-kind construction originally intended, it is assumed, as storage for serving the adjacent school, to testify this, a series of interesting pully systems, goods lifts and doors are expressed internally as well as on the street facing façade.
BakerBrown designed proposals to convert this unique building into a café, an archive hosting some of LB Newham's heritage items and serviced office spaces, for locals.

GIA: 620m2
Contract Value £1.5million.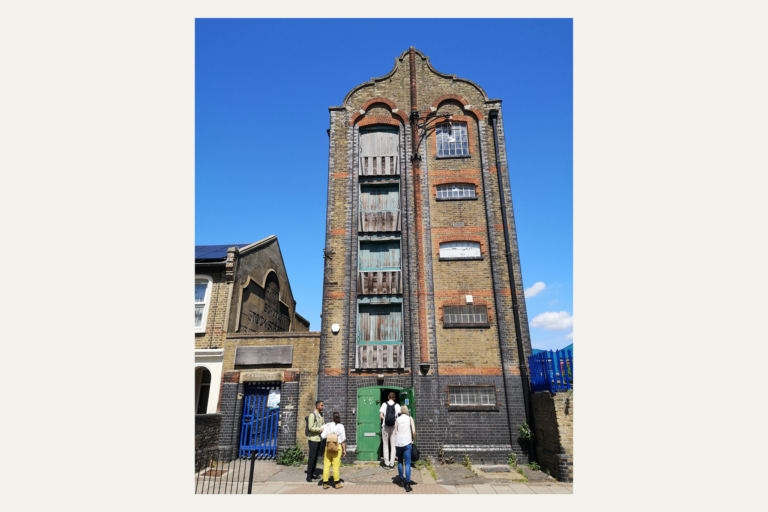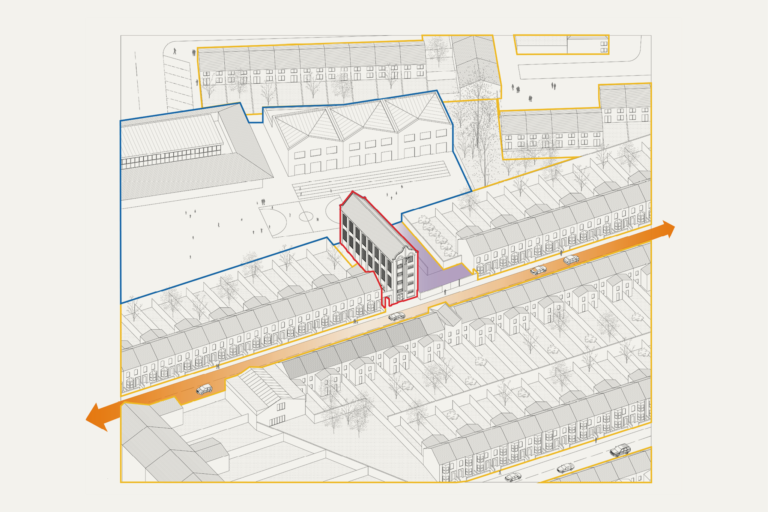 The Tate Institute
A dilapidated community facility established by Henry Tate in 1887, an astonishing building with a long history serving the neighbourhood, once dedicated to the sugar factory workers' families. The building has been a community centre, an artist residence, and a valued place of gathering throughout time. BakerBrown proposed that this culturally significant building be restored to include a central community space hosting a repair café, re-makery, and maker's workshop during the day with a performance space for evenings. In addition, there will be serviced office spaces supporting emerging opportunities in the Green Economy.

GIA: 830m2
Contract Value: £2.4milion.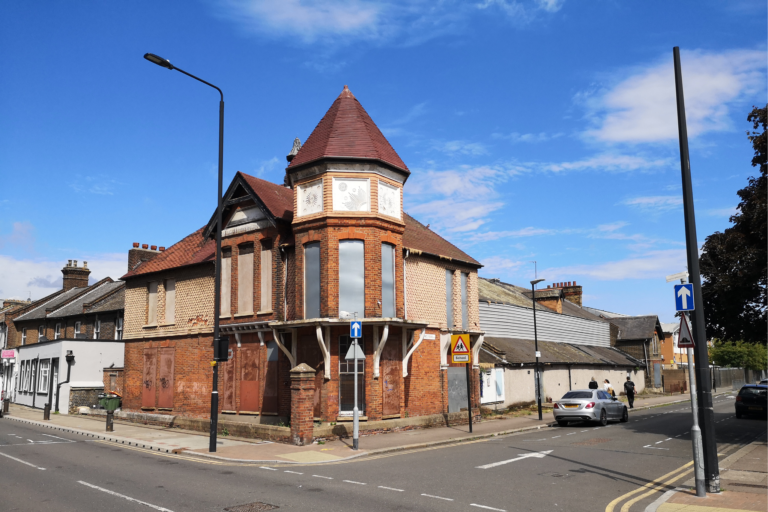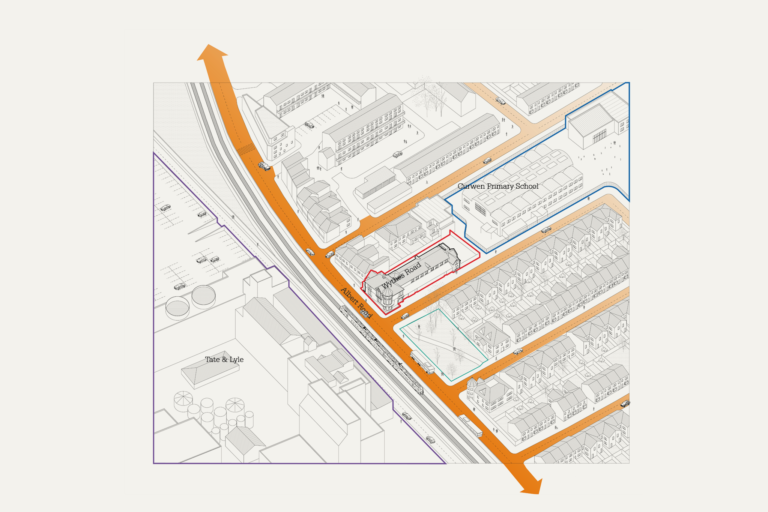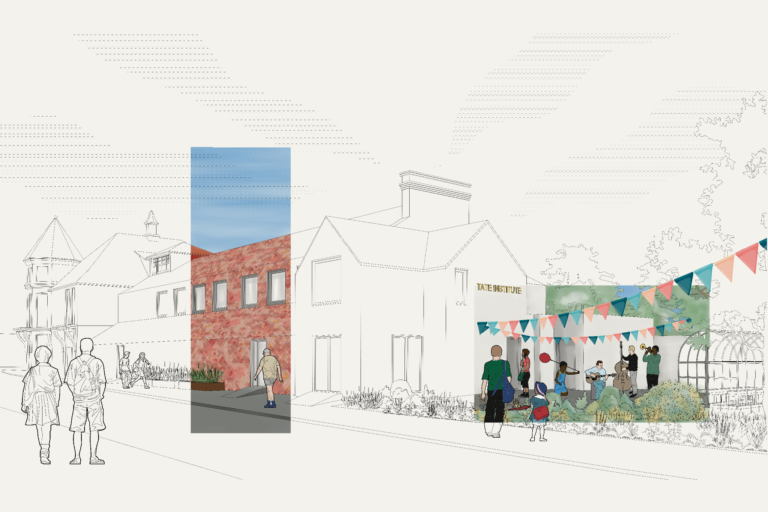 The Ivy House
A small two storey park building, currently covered by ivy, hence the name.
The building, located towards the east boundary of Plaistow Park, between an early years nursery and a surgery, used to be stables and storage space for the council's park team. The Ivy house is currently not in use. BakerBrown designed proposals to convert this building into a café' and office spaces to become a facility serving the community and users of Plaistow Park.
GIA: 250m2
Contract Value: £1.1milion.
These studies were led by BakerBrown,Studio collaborating with:
Skelly and Couch – Mechanical Engineers
Conisbee – Structural Engineers
FT Allen – Quantity Surveyors
Crucial Environmental - Asbestos Consultants
The Oakleaf Group – Fire Engineers