News: 19th April 2018
Birling Gap Visitors Centre - The National Trust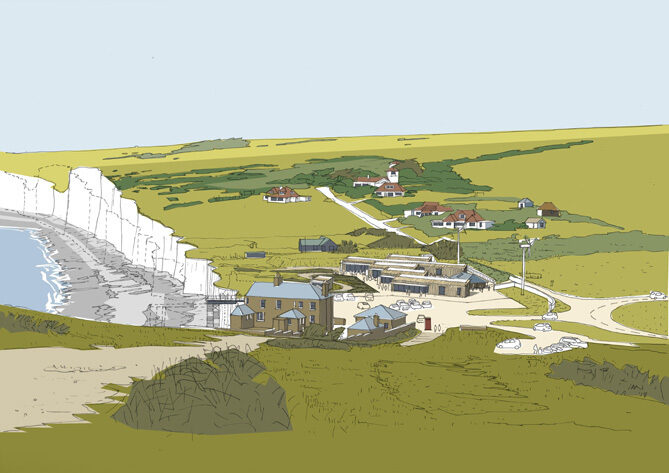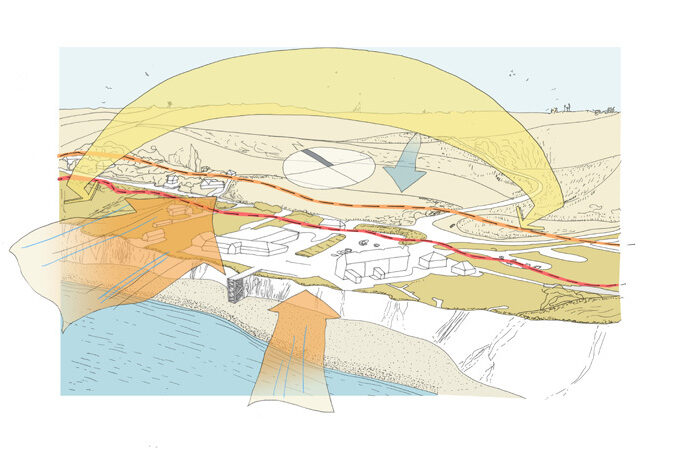 /
Feasibility design complete for The National Trust's Birling Gap Visitors Centre.

BakerBrown were appointed by The National Trust to provide a high level feasibility stage design concept for a relocatable building which can serve as a visitor centre for the site at Birling Gap into the later half of the Twenty-first Century and beyond.
Birling Gap is one of only three points of access to the beach between Eastbourne and Seaford, East Sussex. It is within the South Downs National Park and on the South Downs Way.
The National Trust owns 2.43ha of coastal downland at this point including a small café, shop, exhibition space and education/meeting room. They are visited by approximately 350,000 people a year. As a key gateway to the National Park it provides direct access to over 320 hectares of countryside managed by the National Trust. The core of the main visitor building dates from 1903 and was originally built as a hotel. It has been largely extended and consists of single storey construction, black stained timber cladding, white framed windows on timber framed walls with slate roofs.
In the winter of 2013/4 around four metres of cliff eroded in about two months and necessitated the demolition of the sun lounge, west wing, kiosk and one of the remaining coastguard cottages. The anticipated rate of recession is 1.2m -1.5m per year. Erosion will continue and so the Trust is considering its options for maintaining visitor facilities at Birling Gap incorporating their Shifting Shores principles, facing up to the challenges of adaptive coastal change management and the need to roll-back.
BakerBrown have done a landscape character appraisal considering the site from some of its main approaches towards finding an architectural response which positively contributes to the setting. The study also reviewed some of the relocatable building technologies, recognising some of the constraints of the site access as well as the tie-in with a forty year life cycle of the various building components which might need to be replaced at the time of a move.
The resolved design adopts forms which are readily moveable and align the buildings on an east west axis to give them excellent potential to generate useful passive solar gains, provide summer shading, on site renewable energy generation and yet present a relatively small cross section to the prevailing wind. The main public interiors and south facing terraces are afforded views to the sea, whilst the wind shaded entrance court provides a safe means of opening doors in storm conditions as well as additional outdoor seating areas. The design proposes to keep and integrate the existing external WC block. The scheme includes a proposal for a couple of wind turbines which can generate energy particularly during the lean winter months and act like flag poles announcing the location of the facility to walkers and motorists approaching the site.