News: 29th October 2019
Architects' Climate Action Network Hold First Architects' Assembly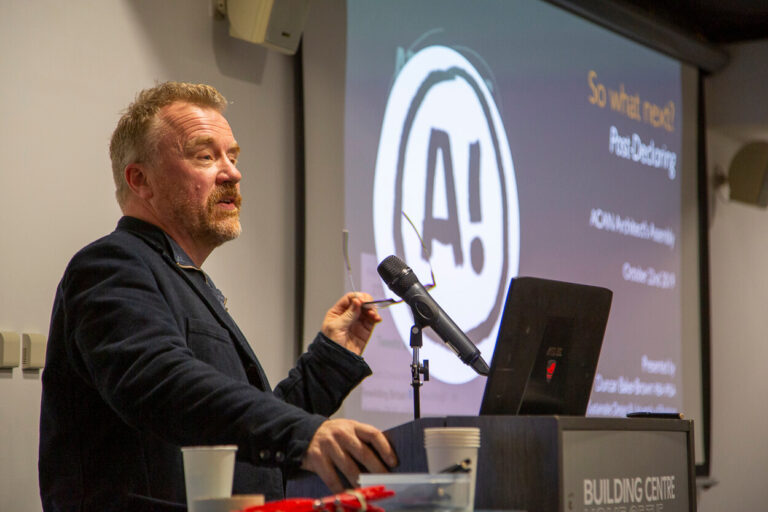 Last week architects gathered after work to discuss how the construction industry can act in time to prevent climate catastrophe during the Architects' Climate Action Network (ACAN) first Architects' Assembly.
The assembly, inspired in part by Extinction Rebellion, was hosted at the Building Centre in Store Street by ACAN. ACAN is a climate activism group composed of people from the built environment who want to address the impending climate and ecological breakdown.
Environmental experts from a variety of backgrounds, including BakerBrown's director Duncan Baker-Brown, opened the assembly with some brief presentations looking at how the built environment influences climate change. Following those presentations, participants gathered in small groups and ran workshops to discuss how best to campaign for policy change and how best to chance their daily architectural practice to respond to the climate emergency.
Speakers included:
Farhana Yamin - Founder and CEO of Track 0, leading international environmental lawyer and climate change and development policy expert
Clara Bagenal George - Sustainability specialist, Mayor's Design Advocate and London Energy Transformation Initiative (LETI) Champion.
Ciara Hanson - Chartered Landscape Architect, working on policy and methods of health impact assessment at London Borough of Havering. Also on Public Practice's climate crisis R&D team.
Laurie Laybourn-Langton - Author and Associate Fellow at thinktank IPPR, leading a major project developing policy responses to environmental breakdown.
Duncan Baker Brown - Architect, Associate Professor at Brighton University and Principle researcher on two Interreg programmes related to the circular economy