News: 2nd February 2017
An insight into The Re-Use Atlas No. 2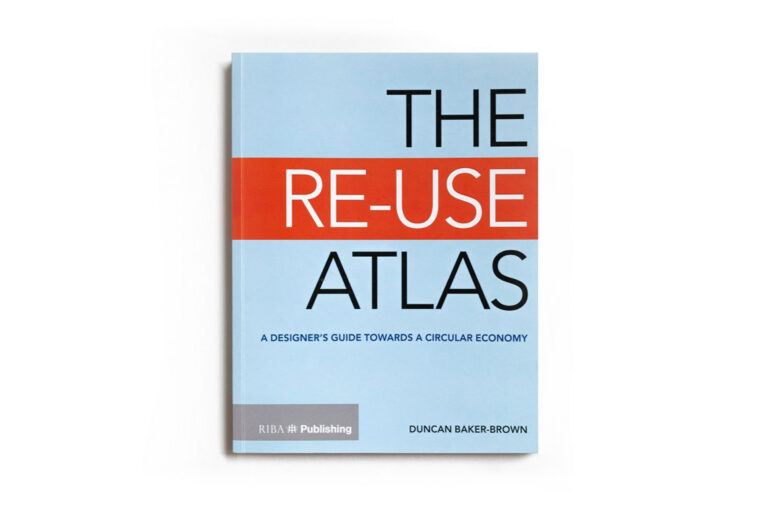 The Re-Use Atlas: A designer's guide to the circular economy
Author: Duncan Baker-Brown RIBA FRSA
Entry number 2
Would you like to visit the previous entry? Click here
Since the Waste House was completed in June 2014, Duncan Baker-Brown has been working on a book that considers the challenges and opportunities presenting designers and clients who wish to 'mine the anthropocene', i.e.work with existing places, communities and stuff previously mined and processed. Duncan's book is entitled 'The Re-Use Atlas'. It will be published in May 2017. However, this blog will give people the opportunity to read parts of the book before the publishing date. Enjoy!
---
About: This book is a highly illustrated 'atlas', taking the reader on a journey, via four distinct 'steps' (recycling, reuse, reduce, closed loop), from our current 'linear economy' towards a system emulating the natural world, i.e, a 'circular economy'. Featuring over 25 detailed case studies describing design exemplars from the worlds of textile & fashion design, product design, interior architecture, architecture and urban design, its purpose is to show designers how they can successfully navigate and exploit the emerging field of resource management and the circular economy. Each step is supplemented with an in depth interview with an expert who is successfully tackling one or more of these challenges that present all designers today. This atlas has contributory essays from, among others, Prof. Walter Stahel of the Product-Life Institute, and Prof. Jonathan Chapman who wrote 'Emotionally Durable Design'.
Optimistic take on the sustainable design
Includes illustrative, international projects at different scales
Shows designers and students how they can positively affect change in this area
---
My personal journey towards a circular economy
Since working on 'The RIBA House of the Future' in 1994, I have been interested in the numerous ingredients that go towards making truly sustainable developments. Over the years I have become more and more interested in unpacking the supply chain associated with construction projects, and trying out different material sources with the aim of CO2 reduction, the preservation of ecosystems and the creation of work. Many architects and designers clearly understand the principles of designing buildings that require little or no traditional energy sources to perform properly. The greater challenge it seemed, to both my partner (Ian McKay) and I, was the reduction of the carbon and 'ecological footprints' associated with the actual design, construction and occupation of said low- energy buildings: whole life costing, in other words. So, naturally, re-examining material sources and construction systems, in addition to issues of programme (what goes on in the buildings we design and what type of lifestyles they encourage), have been two of our main pursuits over the two decades (and counting) of practice and teaching that we have enjoyed.
During the first decade of the 21st century my practice, BBM, was one of a number considering the potentials of designing buildings using locally sourced, non-toxic, organic and replenishable materials. This countered a rush to burn timber due to UK government 'green' incentives encouraging the burning of biomass. We wanted to prove that most timber and other biobase materials could be used in high performance building: to literally 'lock' CO2 rather than release it back into the atmosphere.
In 2001 we constructed the first public building utilising straw bales, Romney Warren visitor centre. It was also 'built for demolition' using mainly local materials that could easily be pulled apart; the building is a simple material store for the future. The first residential building in the UK using locally sourced sweet chestnut cladding in 2005 followed this. We felt that chestnut had great potential as it is extremely durable but also because of the ancient 'working' forests that still survive in Sussex, where our practice is based, and could support even greater levels of biodiversity if worked again. The potentials for our landscape to supply and inform the aesthetic of contemporary building became apparent.
By 2007 we felt able to curate an exhibition that toured the south-east of England, entitled 'Built Ecologies: translating landscape into architecture'. It considered how our landscapes could inform the aesthetic of buildings if they supplied them with material, as well as the potentials for genuinely low carbon developments, employment and perhaps a renewed 'sense of place' and a local identity once commonplace in the UK.
In 2008 BBM was contacted by Talkback Thames, the production company behind Channel 4's 'Grand Designs', who were keen to do a live version of the programme (Kevin McCloud was the presenter of the 6 part tv programme entitled 'Grand Designs Live' which covered the construction of 'The House that Kevin Built' over six consecutive days.). We were asked to test our ideas and prove that a prefabricated dwelling made from over 90% organic, replenishable material could be constructed live on television in only six days. This we did, and our team also created the UK's first dwelling with an A+ Energy Performance Certificate. The building was constructed with zero waste on site and it was then disassembled, with the ground floor forming part of a research project at the University of Bath. The rest of the building parts were sent back to suppliers. Perhaps what was most interesting about this project was the fact that it could be built in the first place. At the time, a number of UK practices (Architype, Fielden Clegg Bradley Studios and White Design among them) were developing a suite of materials, and even inventing construction systems, that could meet this challenge. It reminded me of another point in architectural history, when emergent 'high tech' architects developed, and even invested in, the companies supplying the prefabricated construction systems to deliver their futuristic visions. Was there an embryonic architectural movement developing here?
Although 'Grand Designs Live' attracted over 5 million viewers a night, 'The House that Kevin Built' was up, down and gone in a week. Quite a strange project to work on when you consider how slow architecture normally is. The speed of the project also meant that the knowledge gained by our team was not exchanged at all. So I was keen to repeat the process of rebuilding THTKB again, but to slow it down to about six months, in order to offer it as a teaching tool involving design and construction students, and to properly capture and share the knowledge gained in the process.
The rebuilding of THTKB didn't happen. However, the idea captured many people's imaginations, including Prof Anne Boddington, Dean of the College of Arts and Humanities at the University of Brighton, who was able to persuade her colleagues in the estates department to provide land for the project. However, by 2011, I began to realise there were new emergent themes that our THTKB rebuild project could, or even should, address, i.e. the idea that natural, organic, replenishable materials, that were sourced locally to the development site, could provide high quality, durable and crucially affordable, material for the construction industry. These natural resources absorb CO2 and release oxygen while they are growing, and in effect, store CO2 until they are either burnt or composted. So proving that they are more valuable as building materials rather than fuel for fires is a big deal from an environmental point of view. Projects such as THTKB, and later on, a series of buildings we did for a private clients in the Sussex Weald which were made almost entirely of these low value materials, started to propose that this idea was feasible: and therefore begin to add value to materials that the UK government was encouraging us to burn in so-called 'renewable' biomas boilers and stoves.
In April 2012 I met with Diana Lock, from the environmental management consultancy Remade South East (ceased trading in 2014). Lock was insistent that many large corporations only had one big theme on their minds, and that was how to continue to make their products and deal with the very real challenges of 'resource security'. Whether due to war, unreliable governments or environmental despoliation due to mining and forest clearing, manufacturers were looking at alternatives to relying on raw materials. The other pressing issue was the emerging tough legislation on the safe and proper management of waste generated in manufacturing, as well as other legislation on the need to reduce the amount of waste generated. Corporate responsibility throughout the whole process was another big issue. Lock claimed that old-fashioned 'linear systems' would be gradually replaced by 'circular systems': sensible companies were looking at strategies to reduce their dependence on raw materials, as well as their capacity to create waste. In other words, companies were looking at how to redesign their products, systems and contracts to create a circular, 'closed-loop' process, giving greater security and profitability to the business. I soon found out that many companies were indeed looking at unpacking the way they produced their products. Apple, for example, became keener to lease their products as they had invested in the physical and virtual infrastructure to accept products back from their customers, clean them up and literally re-lease them.
Where are we at today?
The construction industry, despite recent efforts, is still the largest source of Europe's 2.5 billion tonnes of waste generated annually, producing 33% (821 million tonnes). It is closely followed by mining and quarrying (29% or 734 million tonnes). If the construction and manufacturing industries could alter the way they practise, it could have a hugely beneficial effect on the environment. In the UK, 50% of all waste generated comes from the construction industry. Looking at the whole of the planet, the construction and inhabitation of buildings consumes nearly 40% of annual raw materials. The UK construction industry throws away about 20% of all material arriving on site. In other words, for every five dwellings built in the UK, one dwelling's worth of stuff goes to landfill or even incineration. Those hard-nosed developers aren't so tight with their money after all. Since the 1960s it has been cheaper to throw materials at a construction site rather than let the labour force run out of things to do. That situation is changing as the cost of raw materials and the products they are processed into goes up. Also rising is the cost of sending stuff to landfill or incineration – or 'energy from waste' as some people call that particular disposal process.
The projects covered in Part 2 are taking advantage of the opportunities available to people prepared to 'mine the Anthropocene'. They prove that there are different ways of developing that can create new business opportunities and models without destroying our natural resources. Perhaps it will be the new 'hunter-gathers' who will make the most of the new epoch.
Conclusion: This chapter has explored the history of the circular economy and the politics surrounding it, as well as some of the challenges associated with construction in the 21st century. It demonstrates that in many cases policy can influence, but as has been shown can be used by developers to distort the intent of the policy. In reality, the challenge of getting the construction sector to change isn't about encouraging policymakers to introduce policies, it's about getting architects, material purchasers, developers, facility managers, operators, financiers, electrical, mechanical and civil engineers and potential users to buy into the circular economy and understand the benefits. New European targets will point the direction, but it is essential the sector refocuses and moves towards new methods of designing, planning, constructing and dismantling, with an understanding of circularity at the heart of all decisions, regardless of Brexit.