News: 6th April 2017
An Insight Into the Re-Use Atlas No. 10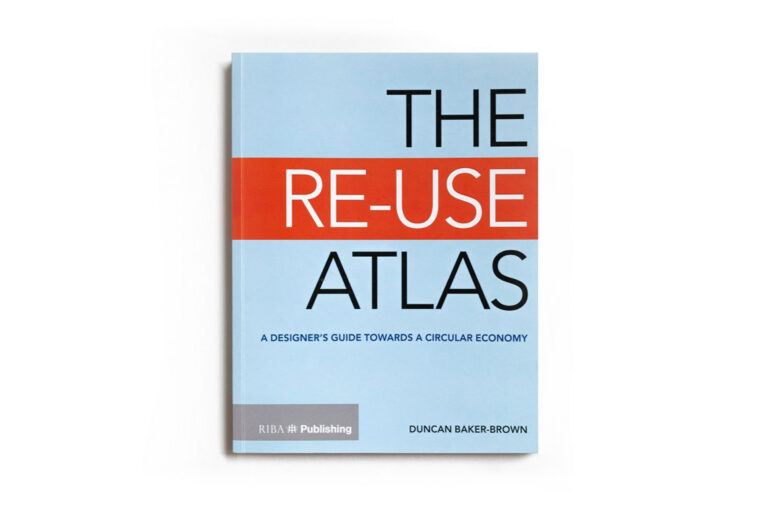 The Re-Use Atlas: A designer's guide to the circular economy
Author: Duncan Baker-Brown RIBA FRSA
Purchase link use code "reuse5" to receive a £5.00 discount
Entry number 10
Would you like to visit the previous entry? Click here
Since the Waste House was completed in June 2014, Duncan Baker-Brown has been working on a book that considers the challenges and opportunities presenting designers and clients who wish to 'mine the anthropocene', i.e.work with existing places, communities and stuff previously mined and processed. Duncan's recently published book is entitled 'The Re-Use Atlas: A Designer's Guide to the Circular Economy' and this blog provides an opportunity to read parts of the book, enjoy!
---
Part 2 of the atlas is divided into four chapters, taking the reader on a step-by-step route towards closed loop systems. Each 'step' contains a number of case studies that capture some of Duncan's first-hand research, gleaned from interviewing over fifty people involved in inspiring projects from around the world that tackle recycling, re-use, the reduction of resource use, and finally closed loop systems. These case studies are supplemented with one longer interview with a significant protagonist from each of the aforementioned steps. Therefore unless stated otherwise, any comments quoted from people in the case studies have been taken directly from interviews Duncan had personally with them.
Step 4 The Circular Economy
Case Study - Hy-fi organic compostable tower, by The Living
To achieve a true state of circularity many people have identified a need to divide resources into 'technical' and 'organic' nutrients, or flows. The organic cycles or ecosystems already exist in nature of course, and the technical ones will hopefully exist when things large and small are designed for disassembly, incorporating new intelligent synthetic materials. The idea of constructing products and buildings with materials that are organic and capable of composting is not a new one. Historically many buildings and artefacts have been made in this way. However, contemporary designers have tended to avoid organic materials, although there are a number of interesting practices and scientists who are considering ways of literally growing their buildings. One of these is Brooklyn-based design practice The Living, comprising architects, artists and researchers and formed in 2006 with a mission of 'creating the architecture of the future' through the exploration of 'how new technologies come to life in the built environment'. Its projects blur the boundaries of avant-garde art, design and horticulture. In 2012 its 'Mussel Choir' formed part of the US Pavilion at the Venice Biennale. Mussels were used as 'biosensors' that were able to vocalise changes in water quality by combining natural and artificial intelligences.
The Living is perhaps best known for its Hy-Fi installation for the contemporary art institution MoMA PS1, based at Long Island City, New York. These temporary towers were constructed using more than 10,000 bricks that, incredibly, were grown rather than manufactured, using a combination of agricultural by-products (chopped-up corn stalks) and mushroom mycelium, which acts as a natural glue. The project was carried out in partnership with Ecovative, a company which specialises in developing organic grown materials and whose own mission is to 'rid the world of toxic, unsustainable materials'.
The Living created brick-shaped moulds that Ecovative used to grow their mycelium- based material in. Through a process of iterative design, growing and physical testing, The Living and its collaborators (including Ecovative, Arup for structural engineering, and a materials testing lab at Columbia University) developed bricks that were strong, load-bearing and tolerant of bad weather – they were designed to last outdoors for three months without any change in mechanical properties. So it is now possible to build with bricks that one day, if they cannot be reused, can be composted. It should also be noted that growing these bricks does not have to consume fossil fuels: the chemical process does not require heat. This is one of the big issues associated with conventional clay bricks, which have a huge carbon footprint. Ironically for a project with the ability to compost organically, Hy-Fi was eventually acquired for MoMA's permanent collection.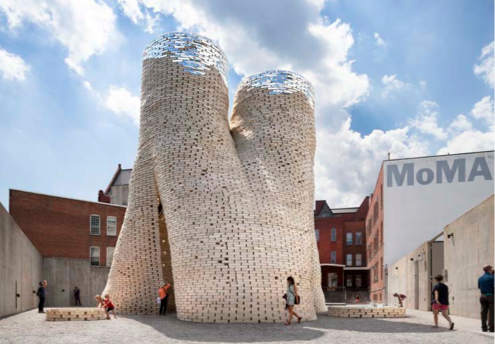 /